4 Signs It's Time For an Air Conditioner Replacement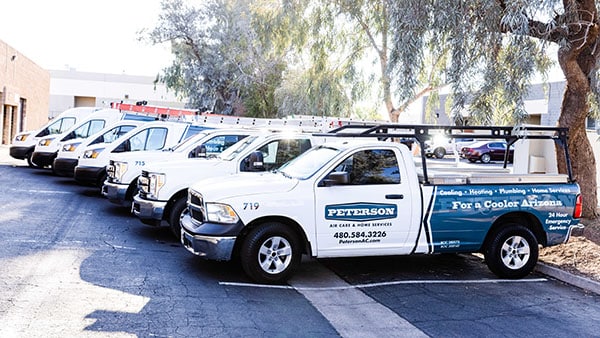 When your air conditioner just quits working, it's typically very obvious that you need to replace it. However, many systems will notify you if they are having difficulty before they cease operating completely. You can replace it before it totally dies if you can read the signals. That way, you'll never be surprised when it's time for a new Tempe AC installation.
Contact Peterson Air Care and Home Services when you think it's time for a Tempe, AZ air conditioner replacement. Our experienced technicians will evaluate your situation, and tell you if your system can be saved with simple repairs, or if it would be best to replace your air conditioner.
(480) 584-3226
Call Now
Are you unsure about what you should be looking out for? Here are 4 signs that you may need a Tempe Air Conditioner Replacement:
1) Your Energy Bills Have Skyrocketed
If your power bill appears out of control, especially during the hot summer months, it may be time to replace your air conditioner. Air conditioners that aren't working properly will have to run longer and work more than those that are. This implies they will be more expensive to operate. Purchasing a new unit may save you money on power.
2) You are Always Hot at Home
Do you get overheated at home no matter what? Do you get the impression that your air conditioner runs and runs yet you never get comfortable? Your air conditioner may be too small for your home, or it may no longer be able to chill air at a rate to keep the house as cool as it once did. Whatever the cause, a new unit that is correctly suited for your house will restore your comfort.
3) Your Current AC is Showing Its Age
Older air conditioners use more energy than modern ones. Even if they function properly, they were not meant to save you money like the modern ones. Because most systems are only meant to last 10-15 years, anything older than that may be costing you more in utilities than you realize. These systems can also be more difficult and expensive to fix, especially with the new coolant laws. When it breaks, replacing it may be your only alternative.
4) Your AC Needs A Lot of Repairs
Many air conditioners require maintenance from time to time. If you're calling for Tempe AC maintenance more frequently than you'd like, it's probably time to explore a new unit. When you know your HVAC technician by name from previous visits, it may be more cost-effective to replace the present air conditioner rather than continue servicing the old one.
Keep in mind, however, that regular Tempe AC maintenance can help prolong the life of your HVAC system, and should be performed at least once per year.
Call To Get The AC Replacement You Need Today!
At Peterson, we are ready and waiting to help you with your Tempe AC replacement ASAP. Our team will get to you quickly, help you select a new AC unit, then install it for you in no time. We'll get you and your family cool again soon no matter what it takes. Call us today!
(480) 584-3226
Call Now