6 Easy Energy-Saving Tips for Spring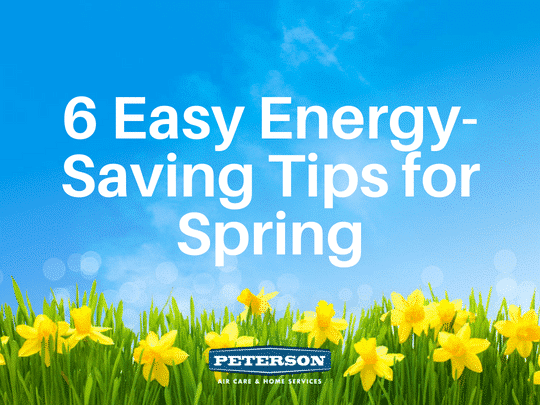 Spring has officially sprung, and aside from cleaning opportunities, it's also a great time to find new ways to save energy at home. Using these methods could save you a lot of money and allow you to spend more time doing what you love!
Read on to learn six easy ways to save energy (and money!) at home this season, or simply reach out to our Tempe HVAC pros for any questions you may have, or if you're ready to schedule service!
(480) 584-3226
Call Now
1) Check Your HVAC Filters
Dirty air filters make your HVAC system have to work harder to heat and cool your home than it needs to if your air filters are clean. As a result, your HVAC system uses a lot more energy than necessary and costs you more money. The easy solution is to change your air filters regularly, once every three months or so, to save on your energy bills.
2) Install a Programmable Thermostat
A programmable thermostat allows you to keep your house at a different temperature while you're away while still maintaining comfort when you're back home. At Peterson Air Care & Home Services, we can install a programmable thermostat for you so you're not wasting energy and money to heat or cool your house when you're not even home.
3) Maintain Your HVAC System
Regular heating and air conditioning maintenance in Tempe can help uncover issues with your HVAC system before they become major problems or costly repairs. Keeping your HVAC system well-maintained also helps it run as efficiently as possible, since it won't be working extra hard just to keep you comfortable at home, which will save you money.
4) Use Your Fan
If you have any ceiling fans at home, turn them on for better air circulation, making sure the blades are spinning counter-clockwise so that the fan pushes cool air down towards you. When you leave a room, be sure to turn off your fan because fans are designed to cool people, not to lower the temperature of the air.
5) Seal Air Leaks & Air Ducts
Be sure to inspect the areas around your windows and doors, and if you notice any cracks, seal them up with caulk or weather stripping. This is helpful year-round, as it keeps cooler air inside during the warmer months, and warmer air inside during the cooler months. Air duct sealing also makes sure your HVAC system is running as efficiently as possible, saving energy and money.
6) Add Insulation
Although most people tend to think about insulating their Tempe homes in preparation for winter, insulation is just as helpful throughout the warmer months of the year. Add insulation to provide an extra barrier to keep the air you want inside your house, and the air you don't want outside your house, regardless of the time of year.
Tempe HVAC Experts Ready to Help!
If you have any questions or need help implementing these energy-saving tips, reach out to us at Peterson. Now is also the perfect time to schedule your AC maintenance in Tempe to ensure it's ready when you need it when the hot temperatures hit.
(480) 584-3226
Call Now