Common Plumbing Problems You Might See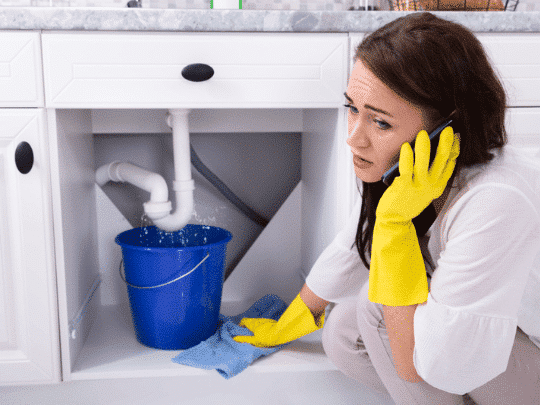 Most homeowners don't think about their plumbing until they have a problem.
This is usually fine, as there's not always much you can do to prepare or plan ahead when it comes to plumbing.
However, you do need to keep your eyes open.
If you see signs of any of the following issues, call a Tempe plumber at Peterson Air Care and Home Services right away.
(480) 584-3226
Call Now
Leaking Pipes
Even a small leak can become a big problem, especially if it's somewhere where you can't see it or where it remains hidden for a while. Look for higher than usual water bills without an explanation, or of damp places where there shouldn't be moisture. You might also see unusual mold or mildew growth that is resistant to eradication. All of these indicate there's a leak and you need to call a plumber right away.
Clogged Drains
Clogged drain can cause quite a bit of water damage if things get out of hand and spill over. Look for drains that are getting slower and listen for sounds of bubbles in the drains. Call our Tempe drain cleaning team to get rid of your clogs fast and make sure they stay away long term.
Dripping Faucets
Even slow drips can get expensive fast! After all, you need to pay for all of that wasted water! If you hear dripping, give us a call. We'll figure out where the problem is and fix it as soon as we can so you won't have to listen to that sound or deal with those high water bills anymore. Don't let this go as a drip can sometimes become a flood!
Busted Water Heaters
If your hot water heater in Tempe starts acting unusual, it's time to get help to fix it. You might run out of hot water, or you might notice that you don't have as much of it as you used to. You might even hear the water heater making unusual sounds. Give us a call and we'll get it working again soon.
Toilets that Run
If your toilet runs even when no one flushed it recently, it's time to call a plumber. You have a leak somewhere and you're spending money on water that you're not getting to use! We'll fix the seals so it works normally again.
Tempe Plumbers Ready to Help!
Call us at Peterson Air Care and Home Services for these or any other plumbing repairs. We work fast so we'll get your house back to normal soon.
(480) 584-3226
Call Now