How to Change an AC Filter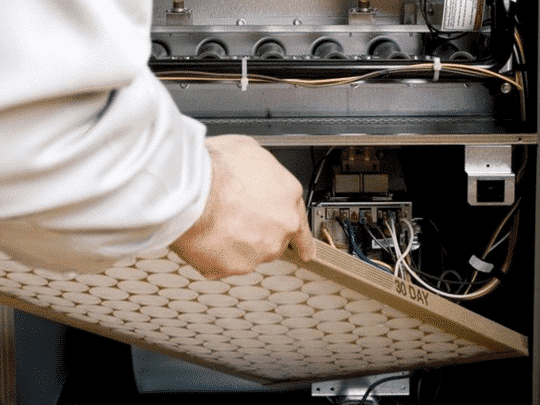 When you call Peterson Air Care and Home Services to do AC maintenance or AC repair, we will gladly change your AC filter as part of your Tempe air conditioning service. However, you can (and should!) complete this activity on your own on a regular basis.
AC filters must be changed more frequently than you call us for maintenance. Continue reading for a more detailed step-by-step tutorial on what you need to know to effectively change your filter, or give us a call to speak with a professional Tempe HVAC technician!
(480) 584-3226
Call Now
1. Buy the Right Filter
The filter's size should be printed on the side of the previous one. You should write this down for future reference or perhaps write it in permanent marker on the furnace's side. You may be able to pick a thicker filter if the other dimensions are the same and your furnace can take it. This may provide better filtration for allergies and small particles such as germs.
2. Turn off Your Air Conditioner
Make certain that your AC is turned off and will not switch on while you are working. If you're concerned, you can turn off the AC breaker or locate the power switch and turn it totally off.
3. Locate the AC Filter
To reach the filter, you'll need to look inside your furnace. See your furnace's owner's handbook. Many will have "Filter" or something similar written on the panel that houses the filter. To see the filter, you may need to remove this panel with a screwdriver.
4. Put It In Place Properly
Most filters have one side that should face the direction of the air flow. The easiest approach to ensure you get this properly is to keep the old filter in place while you install the new one. Then, position the new one precisely where the previous one was.
5. Turn the AC On
Flip the switch or breaker back on, or restart your AC at the thermostat. It should work, and your air should be cleaner than previously. If your filter was really unclean, you should notice a reduction in your energy use.
When to Change the AC Filter
Depending on a few conditions, we normally recommend changing your filter every 1-3 months. Our technicians can offer you a better estimate after inspecting your air conditioner and speaking with you about how frequently you use it. Even if you only use it sometimes, you should change your filter at least every 6 months as part of good AC maintenance.
Help from the Local Tempe Air Conditioning Pros
Call us at Peterson Air Care and Home Services today if you need help with your air conditioner filter. We will be there soon to help you get the solutions you need fast!
(480) 584-3226
Call Now