How to Solve Common Water Heater Problems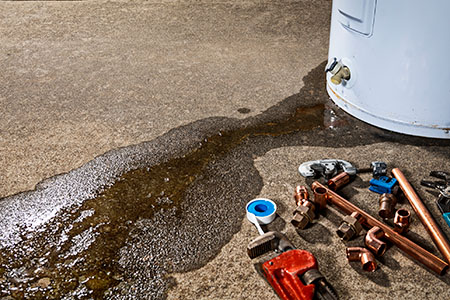 Are you having problems with your water heater? At Peterson Air Care and Home Services, we are happy to come take a look at your water heater anytime.
Sometimes, though, you may be able to fix the issue without our help. Keep reading to learn what you can look for and advice on fixing it yourself.
Of course if you have any questions or need help, you can reach out to our expert Tempe, AZ plumbers!
(480) 584-3226
Call Now
Your Hot Water Isn't Hot Enough
If your hot water isn't as hot as you want it to be, try changing the temperature settings on the water heater itself. If that doesn't help, it's time to bring in a professional to figure out why your water heater isn't heating properly.
Your Water Tank is Leaking
If you notice a leak, trace it back to its source. If the leak comes from the pipes that attach to the water heater, try tightening the connections. If it comes from inside the water heater itself, though, it's time to get some help. Otherwise, you could end up with a massive flood on your hands!
You Don't Have Any Hot Water
If you don't have any hot water at all and no one has bumped the temp gauge, there are a number of problems you could be experiencing. Nearly all of them require the services of a professional, so give us a call ASAP.
You Don't Have Enough Hot Water
If you know that your water heater is big enough for your home and you can see that the water temp is set properly, go ahead and bring in a professional. Your water heater tank capacity may be compromised by mineral deposits, you might need to replace your water heater with a bigger one, or there may be other problems we can solve.
Your Water Heater Makes Odd Sounds
Drain your water heater and descale it. If you're not sure how to do this piece of water heater maintenance, one of our pros can show you how it's done so you can do it next time. If that doesn't help, we can also diagnose the reason behind the odd sounds and fix your water heater fast
Your Hot Water Reheats Very Slowly
Flush your water heater tank and see if that helps. Sometimes, sediment buildup can make it harder for the heater to work efficiently. If that doesn't help, one of our pros will find the problem and fix it ASAP.
Your Hot Water Smells Bad
Smelly water can indicate a bacterial or fungal infection in your tank. If you want to try to fix it yourself, drain the tank, then refill it with water and hydrogen peroxide. Drain it again after three hours and see if the water smells better. If it doesn't, you may need a stronger tank treatment or a whole new tank.
Your Hot Water is Rusty
Sometimes, all you need to do is drain the tank and change the anode rod, and the rust will be gone. If this doesn't work, we'll come take a closer look and find the source of your rust problem.
Help from the Tempe Water Heater Pros
If you're still having issues and think you might need water heater repair, reach out to the Tempe water heater pros at Peterson Air Care and Home Services!
Book Now