5 Benefits of Ductless AC In Tempe, AZ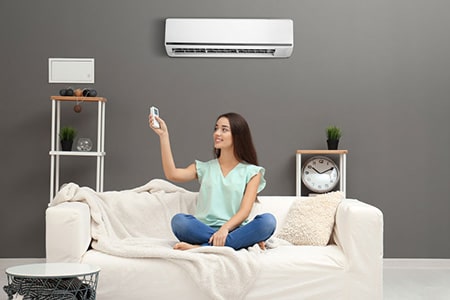 Whether you've heard of Tempe ductless AC or not, they might be the finest option for heating and cooling your house. We enjoy ductless AC for a variety of reasons at Peterson Air Care and Home Service, and we think you will, too.
Whether you are considering Tempe ductless AC in your home, or just curious to learn more, give our Tempe air conditioning experts a call today and we'll happily answer all of your questions and help you get the best ductless AC solution for your Tempe AZ home!
(480) 584-3226
Call Now
Here's everything you need to know to make informed choices regarding cooling systems for your house and family.
What is Ductless Air Conditioning?
Ductless air conditioning eliminates the need for a duct system in your house. Instead, you have a tiny exterior cooling unit that is linked to ductless A/C units in each room of your house. You may use your thermostat or remote to turn on the air conditioning and regulate the temperatures.
You do not, however, have to keep your entire house cool all of the time. Instead, you may activate it in one room at a time or in a group of rooms known as a zone. Some devices even allow you to operate the heat in one room while the air conditioner runs in another!
The 5 Benefits of Ductless AC
Are you unsure whether a ductless split AC unit in Tempe AZ is right for you? Here are 5 advantages we've seen previous clients in your region enjoy.
1) Get Flexible Cooling
Cool one room or zone at a time instead of the entire house. You may also set various temperatures in different regions of your home so that everyone is comfortable.
2) Spend Less Money
This system might save you money since you don't have to operate every ductless A/C unit in your home at the same time. Because you would consume less energy, your monthly expenses will be reduced. You may also be qualified in your region for tax credits and/or utility rebates for the year you install your ductless air conditioner. Before we install your equipment, contact us about these programs!
3) Breathe Fresh Air
Because ductless air conditioners do not rely on air pushed into your ducts, they can improve the quality of the air you breathe at home. Reduce your exposure to allergies, dust, and anything else that may enter via your ducts.
4) Simple Installation
Traditional air conditioning systems take weeks to install and cause significant disturbance in your house. A ductless air conditioner, on the other hand, can be completely operational in as little as a day.
5) Lower Energy Usage
Because you are not constantly cooling your home, ductless AC consumes less energy. These devices are also environmentally friendly. They exceed the efficiency requirements established by the US government.
Call Us Today For Tempe Ductless AC Installation!
Contact Peterson Air Care and Home Service now if you're interested in a ductless AC unit in Tempe AZ! We'll send an expert to your home as soon as possible to assist you determine whether a ductless air conditioner is best for you.
(480) 584-3226
Call Now